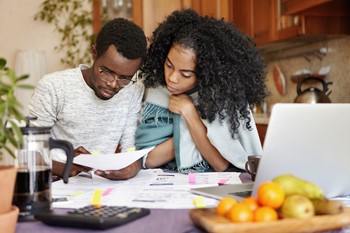 Buying a home is a big change. New surroundings, new town and sometimes even a new state. And these things take time to get used to.
But there's one thing you want to adjust to as quickly as possible - your new budget.
You already know that with a move comes lots of expenses and fees. However, there are a lot of long-term changes you might not realize to take into consideration until they show up in your mailbox.
One is your mortgage payment over the years. Okay, I know you know that your mortgage payment has changed. But what you should consider is how to plan to make that payment each and every month. Sometimes life happens and we don't have a great month and sometimes we have a string of not so good months. It's best to come up with a plan now to prepare yourself if anything should happen
It's recommended to keep three months worth of living expenses saved and put to the side for emergencies. Perhaps you already have money set aside and need to increase this amount to reflect your new lifestyle. And if you don't have any set-aside, it's wise to start a savings plan now. Even if you are only able to put aside a small amount each month, your total will grow over time as you stick to the plan.
Home insurance, property taxes, and homeowner association fees/dues. If this is your first time owning a home these will all be new expenses for you and ones you don't want to catch you by surprise. And if it's not they are certain expenses you will need to account for. Be sure to add these to your budgeting software of choice ASAP.
Seasonal budget changes. Throughout the seasons you may find significant changes to your expenses. If you have moved to a larger home you will probably find you have higher utility bills, especially in those months where you need to run the furnace or A.C. However, there are also yard maintenance costs to take into consideration. Does your new home have a pool, lots of landscaping or a snowy climate? Ease upfront costs by estimating expenses and create an account to put money aside each month to spread these costs throughout the year.
Another account to consider building up throughout the year is for emergency repairs and renovation projects. Replacing appliances, a roof, porch or pool lining are not expenses we typically expect and can easily shell out for. At least, not without some planning ahead of time. Setting up an account to add money to each month for these specific costs can help ease your mind and feel on top of things.