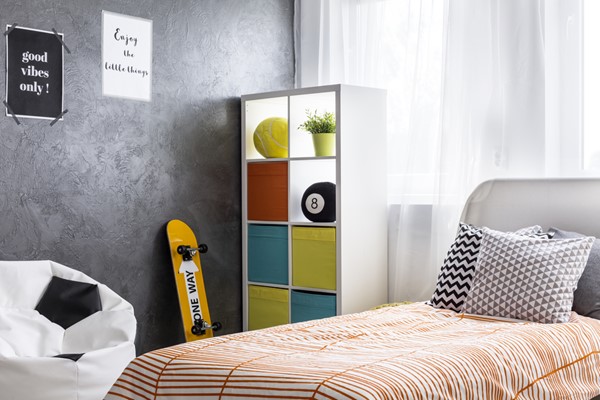 Teenagers have a different view on their bedrooms. While adults might see it as a room to sleep in, teens often see it as a place to escape from the world and crawl into themselves - a place they most confidently rule. Teens tend to be vibrant, social, and energetic, and so, their perspective of a bedroom is a space to hang with friends, play, do some work, and sleep. It's more like their small apartment. 
At some point, some teenagers find it hard to choose bedroom decorations because they are conscious of the latest trends, and they want something that appeals to their personality. If you're a parent looking for the best bedroom ideas for your teens, or you're a teen looking to give your space some unique touches, this post is for you.
Find a balance between childhood and adulthood
Teens are in a stage of progressive development where they have to part with some childhood memories and grow into adults. After a while, teens wouldn't love to keep the decorations of their childhood room because it might seem childish and 'ordinary.' There should be a balance here in determining things to keep from their childhood and ways to decorate the room so it fits the trends – remember teens are very conscious of that.
Treat the space as a multipurpose room
Teens love to be independent as much as possible, and their social lives won't be complete without friends, tastes, and defined personalities. A teen's room is not just a sleeping space; it doubles as a study area to get homework done, and a lounge to hang with friends too. Because of the multi-purpose requirements, it's necessary that the room is versatile. You can have a corner dedicated to studying just by a bookshelf. For the lounge, a bench and a few throw pillows should do the trick.
Respect their tastes
As mentioned earlier, teens love their independence and at this stage, they develop interests in many new things. One good way of making their bedrooms a livable space is to hang quotes of their favorite sayings, or posters of their favorite celebrities. If your teen is one that loves music, for example, guitars and musical wall decor will add to their personality statements.
Go for bold colors and designs
Adults love calm spaces, but teens tend to prefer vibrant colors depicting high energy. Ask your teen for their favorite colors and implement them into the design concepts.
An interior designer can help you bring your teen's bedroom to life. Speak to one today.